Browse Unique Products offered exclusively through Texas Skyways!
Starter Warning Indicator System
If for any reason the starter stays engaged after the engine starts severe damage to the engine can occur. A Texas Skyways warning light indicates if the starter is engaged or not. A safety device.
The oil sump used on the Cessna 180 and 182 aircraft has a factory installed oil drain on the side of the sump. Due to the location of the drain, almost one quart of dirty oil cannot be drained. Texas Skyways has an approval to install a drain in the lowest point of the sump allowing all the dirty oil and sludge to drain. This helps to extend the life of your engine.
Texas Skyways has STCs for engine mounts for C180 and C182 aircraft. Through a stiffer, more ridged mount and the use of vibration isolators, these mounts support the additional horsepower and prevent excess vibration for a smoother flight. The mount is approved for two and three bladed propellers, land and floatplane operations.
This easily installed exhaust pipe extension will help keep the belly of your plane cleaner by channeling exhaust residue away from the plane.
This STC/PMA fairing fits around the exhaust pipe or the exhaust pipe extension giving a more pleasing appearance to the eye. However, the fairing is more than just pleasing to the eye; it blocks the air which normally enters through the exhaust hole in the cowling. Not only does it block the air entering the cowling, it creates a venture effect which draws more air out of the cowling and reduces CHTs.
This ram air pressurizes, to a small extent, the lower portion of the cowling thus, preventing the maximum amount of cooling air from passing thru the cowling for engine cooling. By placing a fairing around the exhaust pipe, the exhaust pipe is virtually hidden and the large opening around the exhaust pipe is covered.
Another area of the single engine Cessna needing attention is the area around the intake air filter. The early models of Cessna 182's and all models of Cessna 180's and 185's have a large gap between the air filter and the engine cowling. A fairing around this area serves no purpose except greatly improving the appearance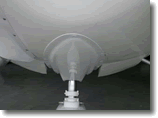 The steering mechanism of the nose gear of a Cessna 182 is an area that needs a cover. Texas Skyways has an approved cover for the steering mechanism which will reduce drag and greatly improve appearance.
Every engine should have one! It takes fuel and air to create power. Only an engine monitor can indicate the correct mixture of both fuel and air. Many engines and cylinders have been damaged by incorrect fuel/air mixtures. The JPI Engine Monitor gives all engine temperatures, pressures and fuel information with the all important indurance time.